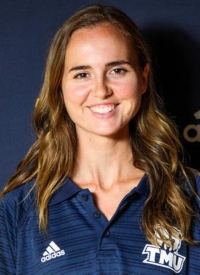 Kadie Hudgins is entering her first year as the Head Tennis Coach.
Hudgins graduated from high school as a four year varsity athlete. Hudgins continued her education at Young Harris College, where she graduated Cum Laude with a degree in Interdisciplinary Studies with a Concentration in Biology/Kinesiology/Psychology and was involved in Dorcus Christian Honors Society.
The Young Harris alum competed as a four year athlete on the women's tennis team, while having earned regional qualifications in doubles, qualified for the Peach Belt doubles all-conference team (2015-2016) and recorded the highest team GPA.
Since graduating from Young Harris, Hudgins has served as a private instructor, the teaching pro at South Beach Raquet Club in Hilton Head Island, a tennis coach at Habersham High School (2019-2020) and is certified under principle of coaching.